Logsign is a next-generation SIEM and SOAR platform that provides comprehensive visibility and control of your data lake by allowing security analysts to collect and store unlimited data, investigate and detect threats, and respond automatically.
The Logsign Security Automation, Orchestration and Response Platform
Connects people, process and technology to effectively manage and streamline your security operations. Automate security devices and guide your team into the same direction to keep work flowing, investigate better, and respond faster.

Automate and Orchestrate Workflows
Automate time-consuming repetitive tasks and keep security analysts on the same page with interactive case management. Manage end-to-end incident life cycle in harmony.
Accelerated Incident Response
Investigate alerts and validate threat levels. Triage them to reduce the false positives. Respond in seconds not hours.
Logsign SOAR is 100% vendor free and seamlessly integrates all your security technologies and starts soaring. In addition to hundreds of built-in integrations, API-first approach enables Logsign SOAR to be deployed quickly without any vendor concern. 
With the execution of pre-defined bots and playbooks you can easily automate your workflows.  SOAR automatically investigates, detects and triages the incidents, allowing security analysts to start working on assigned tasks, goals or contribute to any case which their knowhow is needed.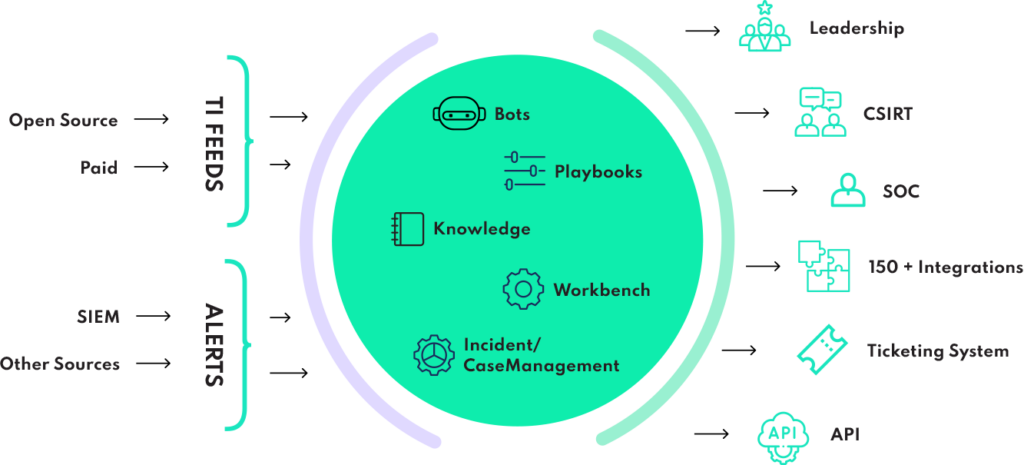 Empowers Analyst & Collaboration
Every analyst can contribute to the case, and the owner and contributors communicate easily to resolve, respond

We created humanoid Bots to enhance the power of analysts. Include the Logsign bots into your team. Let them work

Designed For The Right GOAL
Logsign SOAR welcomes the analysts with a personal workbench screen to direct them to the right GOAL at the right
Logsign SOAR is an independent platform, so there is no limit or barriers to integrate any security tools that you use in your SOC operations.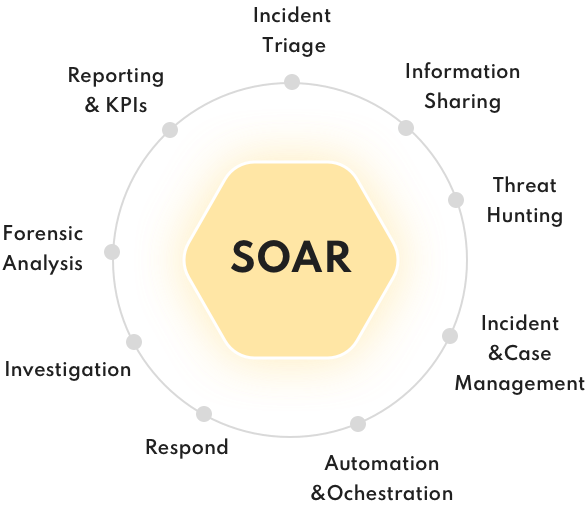 Wide Range of Integrations
Free Support for Integrations & Automations
You see the synergy of our single and independent platforms. 400+ built-in integrations and 200+ automations enable the platform to rapidly start SOARing.
Free plugin service is also available for new integrations and automations whether they are security or non-security devices. API-first approach enables easy integration.
Free to choose or work with any SIEM or other security vendors. Logsign provides vendor-free bidirectional SIEM integrations.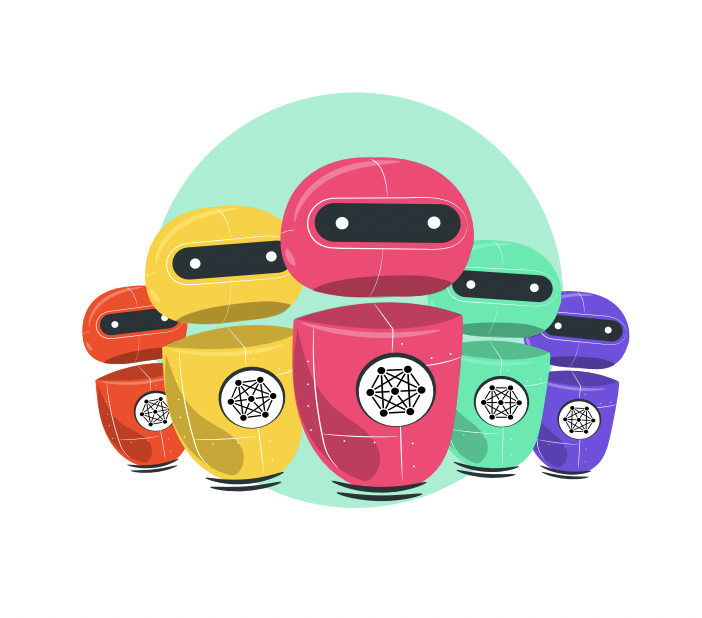 Humanoid Bots & Codeless Playbooks
Logsign bots and playbooks are designed smartly to enhance your security analysts, not replace them. Save time for your overloaded analysts by using force multiplier bots and playbooks, and creating, automating and orchestrating dynamic workflows.
Built-in bots and playbooks are easy to customize. Just drag-and-drop, there's no need to code for customization.
Create repeatable, codeless bots and playbooks with the visual playbook editor.
Logsign's bots communicate and interact with each other and the playbooks inside them. Start and keep workflows up and running smoothly.
Everyone on the Case Page
Investigate, communicate and respond on a single screen to shorten your analysts' learning curve and response time. Comprehensively manage incident life cycles from a single pane of glass.
Investigation & Prioritization
Detects and investigates alerts. Creates cases automatically or enables manual case and task creation. Prioritized cases and tasks are shown to the analysts to focus them on highly critical ones first.
Besides automated responses, Logsign enables analysts to respond manually when they decide to act, with a single click action on the case page.
Related alerts and cases can be grouped into one to respond faster.
Automated Case Assignment
Contribution and Information Sharing
Assigning the analyst with the appropriate skills and experience to a case makes all the difference. Manual or automated case and task creation is easy as assigning the right person. The owner can make the adjustments and create SLAs for the cases.
The case management screen enables analysts to contribute cases, escalate, delegate, share their knowhow, and pin critical points on it. Logsign's case management approach facilitates communication among analysts to resolve cases and respond faster. It provides a fast learning curve for your team.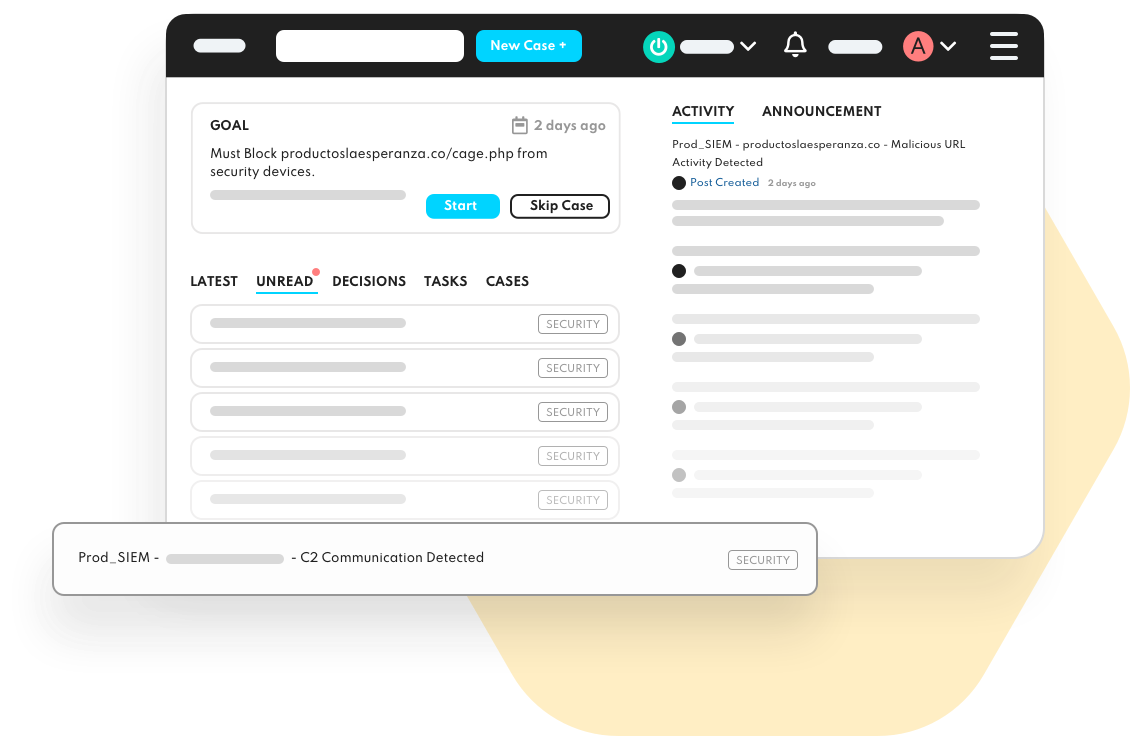 Logsign's workbench is an effective welcome and enabler screen for security analysts. Emergency cases and tasks, goals, prioritized or assigned tasks, messages and contribution requests are all shown on this screen to start result-oriented working. Security analysts improve their efficiency without becoming exhausted.
Knowledgebase is a kind of library. It is your organization's cyber archive that allows security analysts to get knowhow or insight about the past, or share their information and experience easily and provide new insights in the environment. This knowledge base empowers fast and self-orientation, a guide to always refer to for the right move.